Bringing the Internet to Home Town Herndon


Community

Transportation

Government

Churches
Herndon is a town that has been able to maintain its small town flavor and charm while at the same time grown into one of the most interactive business communities in Virginia.
A great place to raise a family, with its many quality schools, parks and recreational activities such as Herndon Youth Soccer, there is always an opportunity to take part. Herndon is also being recognized for its excellent restaurants and eateries which reflect the diversity of its citizens.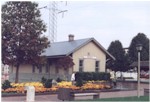 To e-mail the webmaster click here

bpinfo@herndonva.com
For information on advertising or contacting BENPorts please click below.
Copyright © 1996-2013 by BENPorts InterNETional, Inc.
Last updated - Monday, January 21, 2013